17 Rooms Community of Practice Kick-off: February 25, 2021
17 Rooms co-Chairs John McArthur (Center for Sustainable Development, Brookings) and Zia Khan (Senior Vice President, Innovation, Rockefeller Foundation) will host a 1hr virtual event featuring Ángel Cabrera (Georgia Tech), Joe Wong (University of Toronto), Sarah Mendelson (Carnegie Melon University), and Miguel Ruiz Cabanas (Tec de Monterrey). 17 Rooms is a novel approach to stimulating action toward the Sustainable Development Goals (SDGs), co-convened by the Brookings Institution and the Rockefeller Foundation since 2018. This event will explore the value propositions and use cases of 17 Rooms as a methodology that any institution can use to "plug in" to and make progress toward the SDGs. It will be followed by the launch of a beta toolkit of resources that the 17 Rooms-X community of practice can adopt (and adapt!) for local 17 Rooms experiments.

You are warmly invited to attend the Kick-Off and join the 17 Rooms-X community of practice. Sign up here.
University Global Compact Launch Event
Date: September 22, 2019
Time: 6:30 pm
Location: 420 5th Ave, New York, NY 10018
A special reception was held at the Rockefeller Foundation Headquarters in New York City for the launch of the University Global Compact (UGC). Former UN Secretary General, Mr. Ban Ki Moon, as well as other higher education leaders from around the world attended the event.
17 Rooms-U Event
Date: September 23, 2019
Time: 11am – 4:30pm
Location: Rutgers University, 15 Washington St, Newark, NJ 07102
The 17 Rooms-U event was hosted by Rutgers State University of New Jersey, Rutgers Business School, and Rutgers Institute for Corporate Social Innovation (RICSI) and co-organized by the Brookings Institute, George Mason University, the UN Institute for Training and Research (UNITAR), and RICSI. The event focused on identifying game-changing priority actions for the Sustainable Development Goals (SDGs).
Primarily focused on participants from academia, the event curated small SDG-specific expert groups for informal, action-oriented discussions, working in parallel and in concert across the Goals. Under Chatham House rule, with institutional agendas left at the door, the groups focused on identifying significant collective steps that could be taken, by the end of 2020, to bend the curve toward 2030 success.
SUNY Virtual 17 Rooms-U event
Date: November 18-22, 2019
The SUNY COIL Center hosted a global online discussion of the UN Sustainable Development Goals (SDGs) during International Education Week.  They invited participation in any language and encouraged contributions from all over the world. They offered two platforms for the discussions.  Slow Twitter chats unfolded over the course of each day, allowing participants to join when they liked, while also allowing immediate responses and synchronous discussions.  Padlet, an online collaboration tool in the form of a discussion board, where participants could post reflections, questions, videos and photos, and respond to other posts in threaded comments.
Students, staff, and professors could pick one or more of the SDGs to discuss. There were separate channels for discussion of each SDG. Each day they posted a question for reflection and comment. Questions moved from defining the issues, to taking stock of existing approaches in different parts of the world, to idea generation, to commitment to action. 
It was a great way to engage students, staff, and faculty with their peers around the world on issues that impact all of us. This online event was free and open to the public. The event website has information about the event and how to learn more about the SDGs, which you can find at http://bit.ly/17roomsu. Promotional materials used can be found at this link: http://bit.ly/17roomsudocs. 
To learn more about the event and how to participate in future ones, please contact coilinfo@suny.edu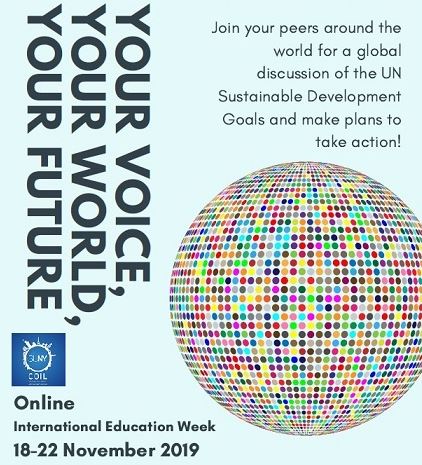 Yonsei University holds GEEF X AEARU Forum
Yonsei University held a GEEF (Global Engagement and Empowerment Forum)  X  AEARU (Association of East Asian Research University)  Forum on October 30th at their Seoul Campus to discuss the critical role of higher education institutions in implementing and driving sustainable development initiatives. 
Read more about the event: https://igee.yonsei.ac.kr/igee_en_new/happening/news.do?mode=view&articleNo=76286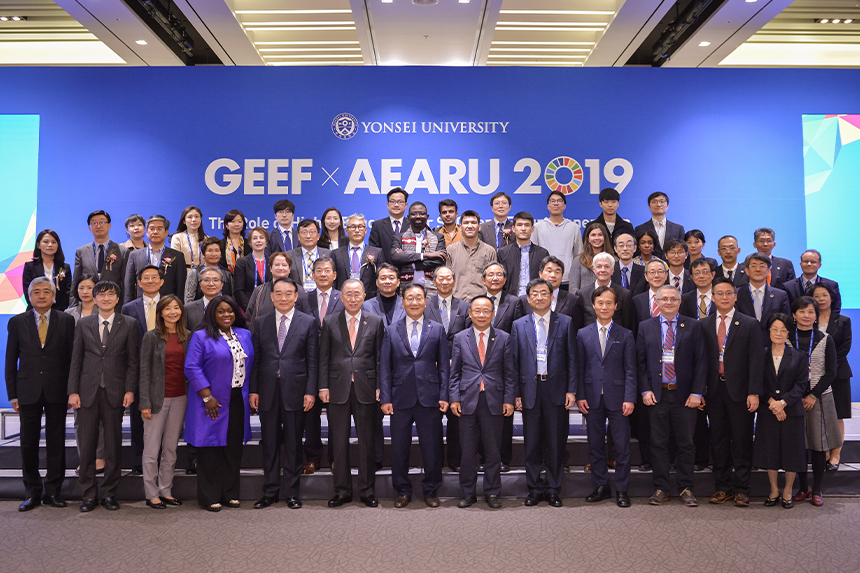 Together/Ensemble – May 2020
The Waterloo Global Science Initiative, SDSN Canada, and the University of Laval hosted the Together/Ensemble Conference May 20-22, 2020. Together/Ensemble is Canada's national conference devoted to tracking progress on the United Nations Sustainable Development Goals. For more information: https://togetherensemble.ca/
University Global Coalition Virtual Gathering: September 21, 2020
2020 Theme: The Role of Universities in Achieving the SDGs in the New Context: Building Back; Building Bridges
On Monday, September 21, 2020, the University Global Coalition (UGC) hosted a virtual gathering to connect university leaders with an interest in utilizing the SDGs to transform their research, teaching, and operations. Sessions highlighted interdisciplinary research and project solutions inspired by the challenges illuminated by COVID-19 such as (but not limited to) increased inequality and access to educational and health resources, closure of borders, food availability, and crisis planning/response.
To view recordings from the conference, visit the Videos page.